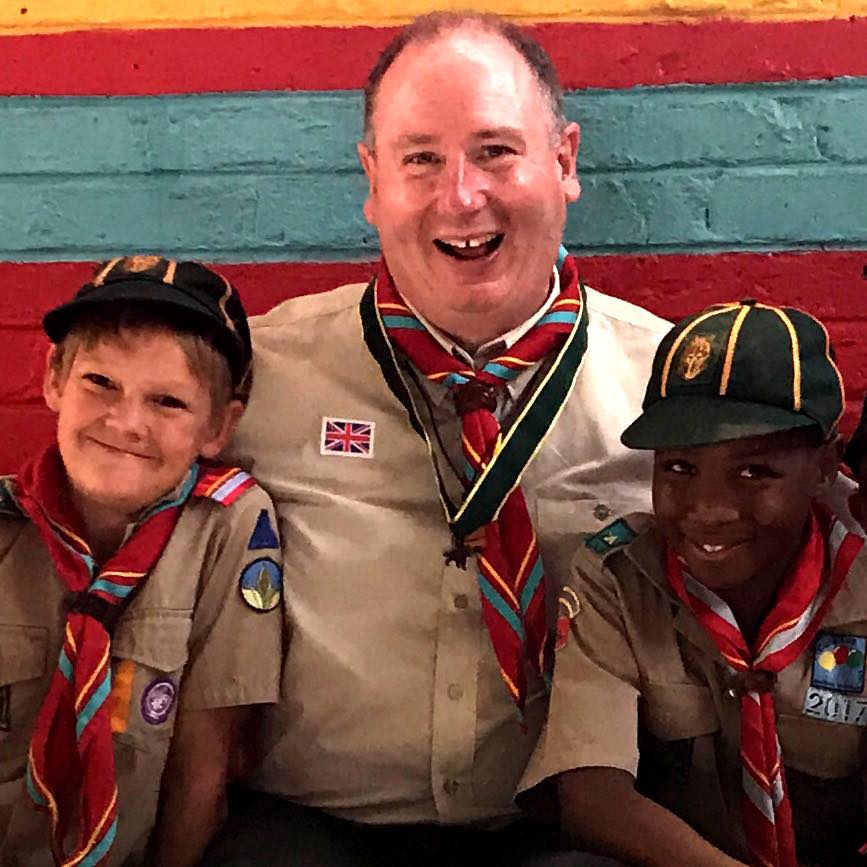 John May is a campaigner, storyteller, writer, broadcaster, teacher, urban cyclist, occasional long-distance runner, habitual chocolate cake eater and mischief-maker who has spent his career working with voluntary, educational and charitable organisations in the United Kingdom and around the world.
John became a Scout when he was 11, in Gloucestershire, England, in what is now the Stroud Valley Scout Group and then at Wycliffe College, the oldest continuously running school based Scout Group in the world. As an adult volunteer in the UK, he has worked with every Section (and been a District Commissioner), has been a Trustee of The Scout Association, International Commissioner for the United Kingdom and the UK's Chairman of Programme and Development. John served as a member of the World Scout Committee from 2008 until 2014, the last three years as Vice Chairman of the World Organization of the Scout Movement.  He continues to advise the World Scout Organization on a variety of matters and is currently their lead volunteer on peace and human rights education.
In 2009, John was presented with the Distinguished Service Medal by Persekutuan Pengakap Malaysia, in recognition of his work for and on behalf of young people.  In 2012, his international youth work was recognised by Scouts Canada through the award of the Certificate of Commendation.  In 2014, he received the Gustaf Adolphus medal from the Swedish Scout and Guide Council, in recognition of his support for international Scouting.   In 2015, he was awarded the Silver Wolf by the UK Scout Association "for services of the most exceptional character" and the Silver Sakura medal by the Scout Association of Japan in recognition of his service to young people around the world.
In 2016, John was awarded the Bronze Wolf by the World Scout Committee, (the 351st since 1935, when Baden-Powell received the very first – and the 36th one awarded to a British citizen, the 9th to an Australian citizen) to acknowledge his outstanding contribution to World Scouting. The Bronze Wolf is the highest honour that can be given to a volunteer Scout leader in the world.
John was awarded an OBE in the 2020 UK National Honours List for "services to young people".
He lives in rural Oxfordshire, England, where he volunteers for Scouting within the county.  He is honorary President of British Scouting Overseas and honorary Vice President of the Scout and Guide Graduate Association.
Professionally, John is the Chief Executive of Cats Protection, the UK's leading feline welfare charity.